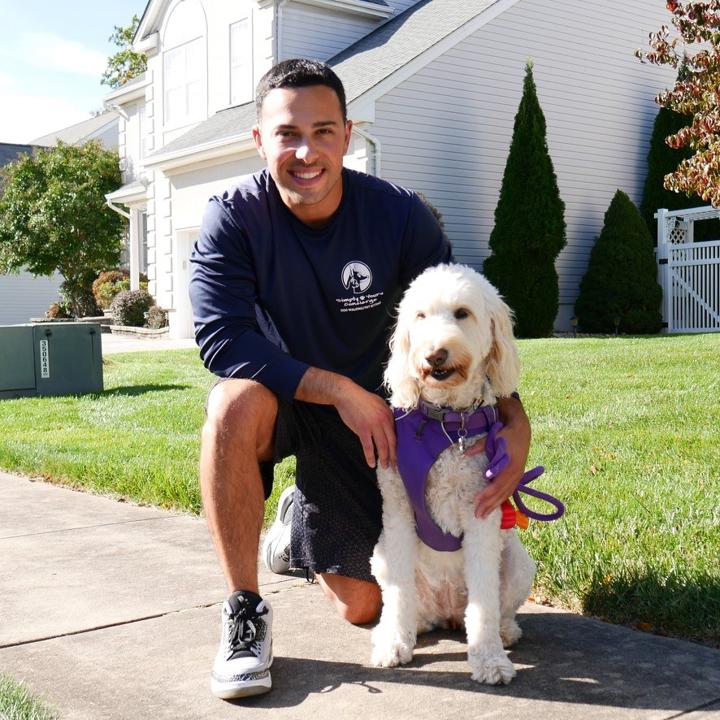 While Kyle studied history at Rutgers, it was his minor in business that led to his passion for entrepreneurship. At age 24, Kyle started his pet care business after a conversation with his mom. "I was trying to think of what was next for me, and my mom gave me the idea of starting a pet care business. I've always loved dogs and cats, so it sounded like a great opportunity."
Prior to starting Simply Yours Concierge, Kyle learned the pet care business by taking care of pets for friends and family. For the first two years, Kyle was a one man show; he did everything from running and managing the business to walking dogs and building his client base. After that, the business really took off — something Kyle credits to his passion for making clients happy with great customer service. Today, Simply Yours Concierge has over 35 staff members, serving nearly 300 pets across four counties in New Jersey.
"Being an entrepreneur is my passion. You can find the time, if you want to make the time. My favorite part about running a business is staying busy and helping as many people as possible. I want to make something of myself, and I like the challenge of being a small business owner."
So, what does a typical day look like for Kyle? You are likely to find him running one of his 3 businesses. We asked Kyle to share some advice for anyone interested in starting a pet care business, and for those who already have their own businesses, tips on how to continue to grow.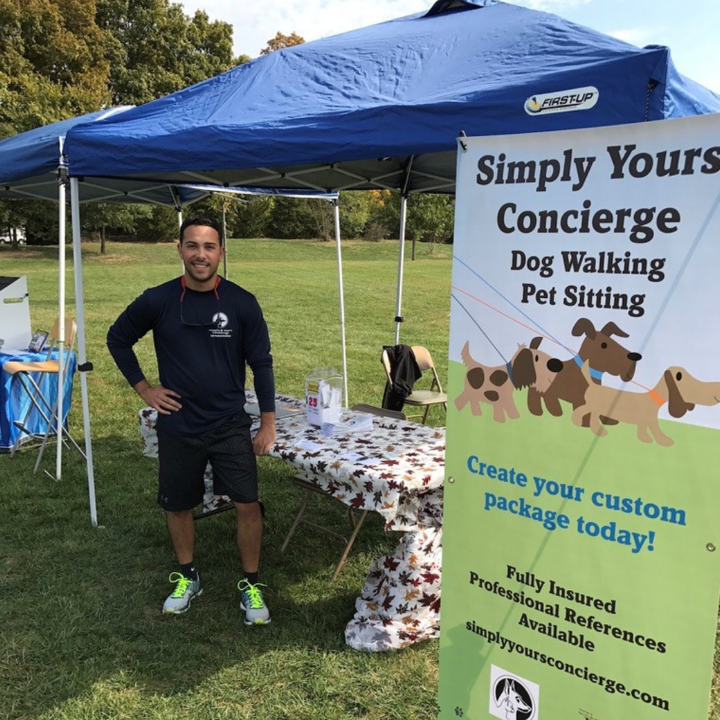 Kyle's 5 tips for running and growing a pet care business:
1.      The best way to grow your business is by using the internet
I don't pay for any of my marketing, but I have spent a lot of time working on my website. My background in business helped a little, but I learned the most by just doing it. Here are a few things that worked well for me:
SEO. I learned that using zip codes and townships on my website helped boost search results in my local area
Blog. I try to write about something different every time and put a fresh new spin on something
Include a link to request an appointment. I have a link to PetPocketbook on my website so my clients know they can request appointments with me online. As an example, here's the page: https://www.simplyyoursconcierge.com/book-a-visit
2.      Provide outstanding customer service
I think my work ethic and customer service skills come from watching my grandpa run his travel agency. I saw how he interacted with customers over the phone and always made sure they were happy. Seeing how hard he worked for over 50 years showed me what it takes to run a small business.
I took what I learned from him and applied it to what we do at Simply Yours Concierge. Seeing my clients happy is my favorite part of running the business. When I know we've done a great job, I ask clients if they would be willing to leave us a review on Google. Most say yes, so just ask!
3.      Set yourself up to grow
As soon as you can, get yourself to the point where you can delegate! Find some genuine people that you can trust with your business. We recently hired a supervisor to help me run the business, and it's made a huge difference!
We also rely on PetPocketbook to help with client onboarding, scheduling appointments, sending out pet report cards, and billing our clients. The automation is a different kind of delegation. We don't have to remember to do as many things, and it speeds things up, saving us lots of time. With appointments, clients no longer need to message me to schedule an appointment; it's handled all within PetPocketbook.
 4.      Make the time
I make sure that my supervisor, Abby, and I are always available to our staff and clients. I want them to be able to ask me anything and get an answer as quickly as possible. It's what makes us different!
We also value giving back to the community. We work with Pittie Party Rescue, an organization in central New Jersey that helps facilitate adoption of cats and kittens. As a sponsor, we are their preferred pet sitting service recommended to all new pet parents.
5.      Have the right attitude
When running a business, you should always be patient, professional, and kind. It seems obvious, but the right attitude goes a long way. In the beginning when it was just me, I was very focused on building relationships with my clients and made sure they were satisfied and happy.
I want others to know that now, even though I am more behind the scenes, everything I do is still with my clients in mind. I may not cover visits day-to-day, but I am working behind the scenes to communicate with staff, make our schedule, check-in with clients, and do other things they may not see. I work extremely hard and care a lot about helping others!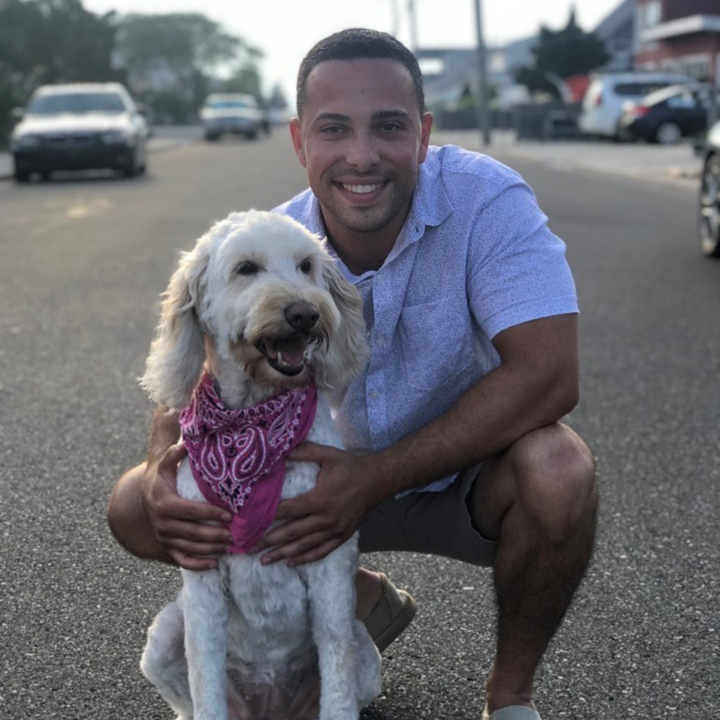 Like for many businesses, the pandemic threw a wrench in Kyle's growth plans. Before COVID, Kyle had about 20 staff members and served about 220 pets a week. During the pandemic, that fell to 10 clients. Kyle used this time to regroup and restructure his business. This was when Kyle discovered PetPocketbook. "Besides the ease of use, I chose PetPocketbook because the $25 monthly rate for the service you get is a no-brainer. My life has been made infinitely easier by PetPocketbook!"
The past year, Simply Yours Concierge has taken off like a rocket ship and continues to grow. When asked what the future looks like for his business, Kyle shared, "Keep going! We want to help as many people and their pets as we can. Our goal is to continue to make a positive difference in the communities we serve."
The best way to learn is by doing, so if running and growing a business seems intimidating, take Kyle's advice: be patient, persistent, and have faith in yourself and your team.